This Week's Technique – Toasting Spices
Kick up your cooking by toasting your spices & blends. Here I am toasting ras el hanout, a Moroccan spice blend. Do this with cumin and curry too. Remember, I am basically lazy.  I will not have you do an extra step unless it is well worth it.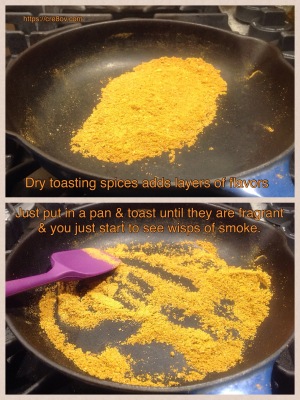 Dry toasting spices adds layers of flavors.  Just put them in a pan and toast until they are fragrant and you just start to see wisps of smoke.  Added benefit, the house smells great.
Stay tuned for the next exciting episode.
SOME RECIPES THAT USE THIS TECHNIQUE: